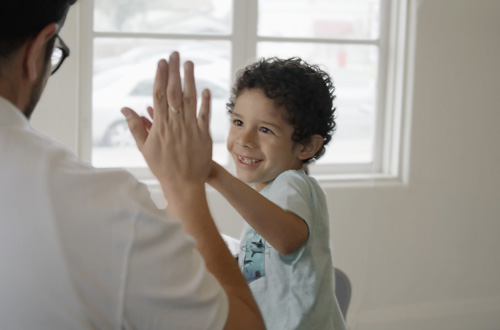 All of our students are showing steady progress in meeting and exceeding their personal goals. Take a look at some student results after only 6 Sessions with our Harmony Method!
The students in the following progress reports will be referred to as N, A, G, and J to protect identity.
Student N has the remarkable ability to replicate a song on the piano after hearing it only once.  This is amazing because he had never played the piano prior to taking lessons at Tomorrow's Tone. He can now sight read music and use both of his hands independently. He has also learned to read 12 notes on the treble clef and can play 5-note sequences.
Student A is steadily progressing. He has learned to sight-read half of the notes on the treble clef in only two sessions. He can now use his hands independently of each other and has mastered the skill of playing 5-Note sequences with both hands.
Student G has mastered 4 out of the 5 goals we have set for him in 5 sessions. He can sight-read and play music without focusing on his hand placement. He has quickly become comfortable playing the piano and gets excited to play the piano at home, during his lessons.
Student J has completed 3 out of his 5 goals in 4 sessions. He knows how to identify 14 notes on the treble clef and play several 5-note sequences. He is currently learning to play one of his favorite Fleetwood Mac songs and is steadily progressing towards his personal goals.
Parent of Student J: "We always saw that our son connected to music in a special way. We were able to calm his meltdowns and temper his autism related sensitivities with music. So, we looked and looked for a program that would help him to tap into that musicality. We were never able to find someone that would teach him to play music while being able to handle his differences from autism until we heard about Tomorrow's Tone. After hearing the basis for this program and knowing that they were equipped to handle teaching him in an understanding way, we jumped in, and boy, has it paid off! He is showing such talent and drive in learning to play the guitar. He has pride in his achievements and looks forward to his sessions. He has even begun to teach his little brother how to play and is showing some leadership skills. Thank you to Tomorrow's Tone for unlocking the potential we always knew our son had!"
Teaching our students music is rewarding. With some patience and tools from The Harmony Method, we are able to mold students into the musicians they want to be. Not every day is perfect, though. Like most people, our students can have bad days too. On these days, we do our best to make their bad day into a productive one. Each student has their own motivations to succeed and we do everything in our power to get them there.